Buying goods online is gradually becoming one of the new trends chosen by many people for their convenience.
In Japan, there are many online websites that sell many items such as electronics, fashion for men and women, beauty, furniture, kitchenware, baby, grocery,…
1. Amazon Japan
Amazon is the number one retail site in the world, and is one of the most used e-commerce sites in Japan. On Amazon, there are a lot of stores with all kinds of goods from all fields from fashion, technology, electronics, household goods, sports … for those who need it. You will find any item you are looking for here. Moreover, Amazon has an easy-to-see, user-friendly interface.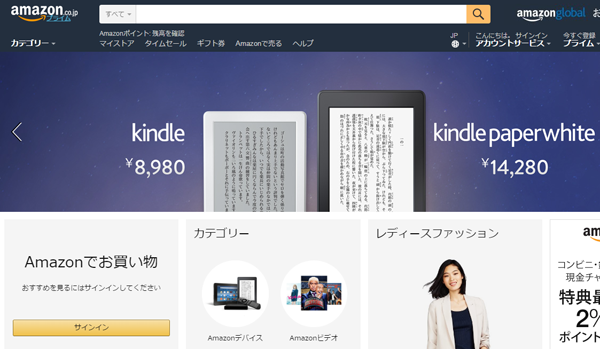 2. Kakaku
 Kakaku.com is a website that reviews prices, features, product reviews, questions, and answers about many different types of Japanese business stores, especially electronics, electronics, so users will easily find quality products and the cheapest place to sell. Buying on Kakaku is the choice of many international students in Japan.
3. Nissen
Nissen is one of the leading Japanese retail groups established in 1972 with more than 27 million customers in the Japanese market and a network in more than 100 countries. The items on sale at Nissen are diverse and plentiful with many different items but mainly specialize in fashion for men and women, beauty, furniture, kitchenware, baby, grocery… This website is also frequent. There are discounts during the year if you are hard to stop by customers can buy many beautiful products at relatively cheap prices.
4. Rakuten
 Rakuten is considered a big power in the field of Japanese electric commerce. In Japan, Rakuten is always a brand trusted by many retailers and customers. With the diversity and variety of items in all areas such as fashion, consumer electronics, entertainment … you can find whatever you are looking for at Rakuten. To date, the Rakuten system has nearly 5,000 employees, more than 26,000 retailers and about 47 million registered users – equivalent to 40% of the Japanese population.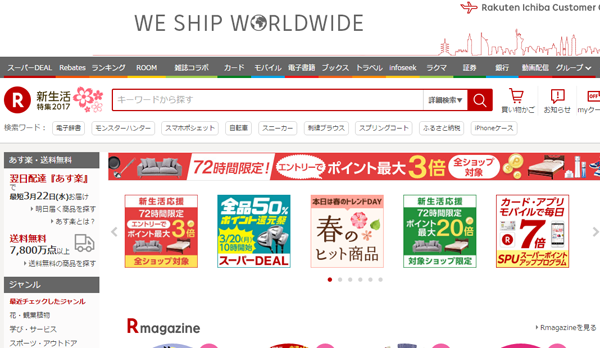 5. Yahoo shopping page
Yahoo shopping site is considered a large trading page in Japan with a huge amount of goods that can meet all the needs of consumers.
6. Yahoo auction page
Yahoo Auction Japan is a reputable and quality auction site in Japan. Yahoo auction site is considered a quite diverse market with all kinds of goods from old to new for you to be spoiled for choice. With the scientific arrangement of categories from large to small, you can easily find the item you are looking for by dividing by categories from large to small.
7. Yamada Denki
Yamada Denki is the leading electronics selling website in Japan. Just by visiting this website, you can freely choose from a variety of products from cameras, phones, televisions, washing machines, etc. Yamada Denki's website is scientifically arranged for you to enjoy. Search, purchase and payment is quite simple and easy, so many customers choose.
8. Nitori
Nitori is a famous housewares, furniture manufacturer in Japan, simple design, youthful and quality
9. Shopping Mall biccamera
Biccamera is a very famous and reputable sales website in Japan. Consumers can freely choose the product they like and order
10. Uniqlo
Uniqlo is a famous Japanese fashion brand, ranking fourth in the world in retail. The main item here is fashion with reasonable prices.